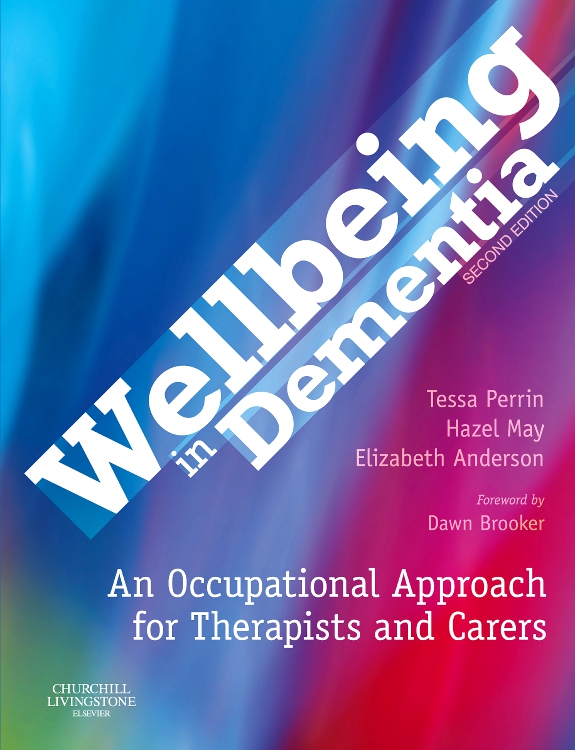 Wellbeing in Dementia
An Occupational Approach for Therapists and Carers
Edition 2
Editors:
By Tessa Perrin, PhD, MSc, DipCot, Hazel May, MA, DipCOT, SROT and Elizabeth Anderson, MA, MSc, D.Phil
Publication Date :
Jun 27, 2008
Description
About the Editor
Table of Contents
Book Reviews
Description
The book is written for therapists and carers of older people and people with dementia. It proposes a model of practice for those who are charged with a duty to provide a quality lifestyle to those who have dementia, that is, the very large number of professional and family carers who manage the care of our ageing poulation. No other such model exists and there is no other book of its kind on the market.
Key Features
Proposes a realistic model of practice for dementia care which centres on the unique occupational potential of the person with dementia.
Offers positive strategies to improve wellbeing.
Current information on assessment tools.
Written by therapists with extensive experience in working with this client group.
About the Editor
By Tessa Perrin, PhD, MSc, DipCot, Independent Occupational Therapist; Hazel May, MA, DipCOT, SROT, University of Bradford, School of Health Studies, Bradford Dementia Group, West Yorkshire, UK; and Elizabeth Anderson, MA, MSc, D.Phil, University Teacher, Bradford Dementia Group
Table of Contents
Foreword
Preface to 2nd edition
1. Understanding dementia
2. Occupational therapy revisited
3. The altered world of dementia
4. The significance of the carer
5. The playful practitioner
6. Principles of good practice in dementia care
7. Non-verbal communication: the currency of wellbeing
8. A model for dementia care
9. Assessing capacity for doing and promoting engagement
10. The dementia therapist: a good enough mother?
Index
Book Reviews
"Wellbeing in Dementia: An Occupational Approach for Therapists and Carers is a most insightful book, with authors who clearly have extensive experience of working with people with dementia, and is to be recommended for all therapists who work in, or are new to, this field of practice."
International Journal of Therapy and Rehabilitation, March 2009, Vol 16, No 3