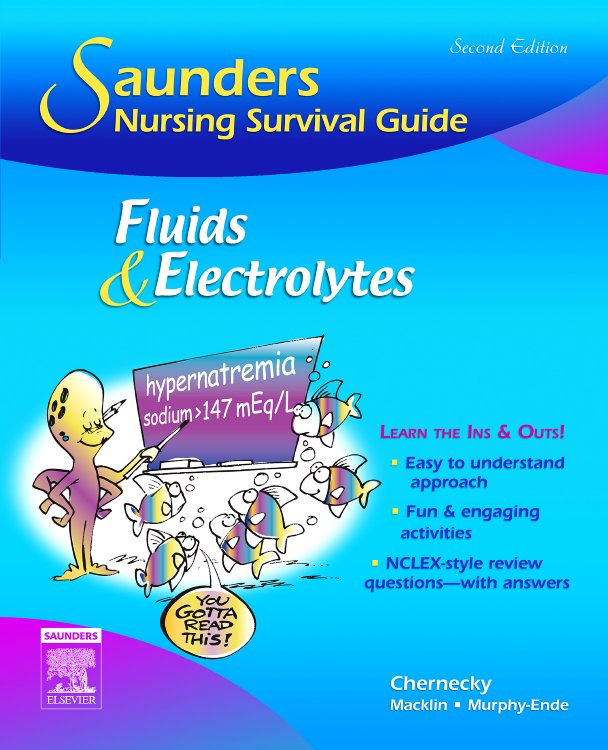 Saunders Nursing Survival Guide: Fluids and Electrolytes
Edition 2
Editors:
By Cynthia C. Chernecky, PhD, RN, CNS, AOCN, FAAN, Denise Macklin, RNC, BSN, CRNI and Kathleen Murphy-Ende, RN, PhD, AOCNP
Publication Date :
Dec 6, 2005
Description
About the Editor
Table of Contents
Details
Description
This readable and student-friendly guide simplifies and clearly explains the complex concepts and processes of fluids and electrolytes in the human body. It utilizes a step-by-step learning approach and starts with the basics and advances to cover more complex issues. The new edition features revised NCLEX® examination-style questions and new case studies.
Key Features
Unique presentation of content allows students to survive and thrive.

Material is presented using adult learning principles and various active-learning strategies to engage nursing students of all ages, backgrounds, and learning styles.

Consistent chapter format breaks down information into small units and reinforces an effective thinking process.

Special icons for Lifespan Considerations, Cultural Implications, Web Links, and Cautions help the student quickly identify special content in the chapter.

Memory-reinforcing interactive activities (including fill-in the blank, matching, word jumbles, true/false, and crossword puzzles) promote student learning.

Clinical terms and shorthand expressions are highlighted in parentheses to expose students to terminology that they will hear in the hospital setting.

Boxed Take Home Points provide the benefit of years of nursing experience that students can use to prepare for their clinical rotation.

Original cartoon-character illustrations walk the student through difficult subjects with a lighthearted approach.
New Features
Cover design and series title better identifies the series as a fun and simple review.

What You Will Learn section provides chapter objectives for the reader to aid in their navigation through the chapters.

Over 100 NCLEX® examination-style review questions have been moved to the ends of chapters to immediately test student knowledge.
About the Editor
By Cynthia C. Chernecky, PhD, RN, CNS, AOCN, FAAN, Professor, Department of Physiological and Technological Nursing, School of Nursing, Georgia Health Sciences University, Augusta, GA; Denise Macklin, RNC, BSN, CRNI, President, Professional Learning Systems, Inc., Marietta, GA and Kathleen Murphy-Ende, RN, PhD, AOCNP, Pain & Pediatric palliative Care Nurse Practitioner, University of Wisconsin Hospital and Clinics, University of Wisconsin, School of Nursing, Madison, WI
Table of Contents
Chapter 1. Dynamics of Fluids and Electrolyte

Chapter 2. Dynamics of Acid-Base Balance

Chapter 3. Sodium

Chapter 4. Chloride

Chapter 5. Potassium

Chapter 6. Phosphorus

Chapter 7. Magnesium

Chapter 8. Calcium

Chapter 9. Elements and Minerals: Fluoride, Iodine, Iron, Selenium, and Zinc

Chapter 10. Heath Care Problems of the Neonate

Chapter 11. Fluid and Electrolyte Balance in Infants

Chapter 12. Health Care Problems of the Toddler

Chapter 13. Health Care Problems of the Adolescent

Chapter 14. Health Care Problems of the Young Adult

Chapter 15. Health Care Problems of the Older Adult

Chapter 16. Interventions for Maintaining Fluid and Electrolyte Balance

References

Details
978-0-323-07403-2, Mosby: Mosby's Dictionary of Medicine, Nursing & Health Professions, 9e, Sep-2012
978-1-4377-0825-7, Silvestri: Saunders Comprehensive Review for the NCLEX-RN® Examination, 5e, Oct-2010
978-0-323-08643-1, Skidmore-Roth: Mosby's Drug Guide for Nursing Students, 10e, Jul-2012
1-4160-2878-1, 978-1-4160-2878-9, Chernecky, Garrett, George-Gay & Hodges: Saunders Nursing Survival Guide: ECGs and the Heart, 2e, Dec-2005
1-4160-2877-3, 978-1-4160-2877-2, Chernecky, Infortuna & Macklin: Saunders Nursing Survival Guide: Drug Calculations and Drug Administration, 2e, Nov-2005
1-4160-3048-4, 978-1-4160-3048-5, Gutierrez & Peterson: Saunders Nursing Survival Guide: Pathophysiology, 2e, Sep-2006
1-4160-2935-4, 978-1-4160-2935-9, McCuistion & Gutierrez: Saunders Nursing Survival Guide: Pharmacology, 2e, Oct-2006